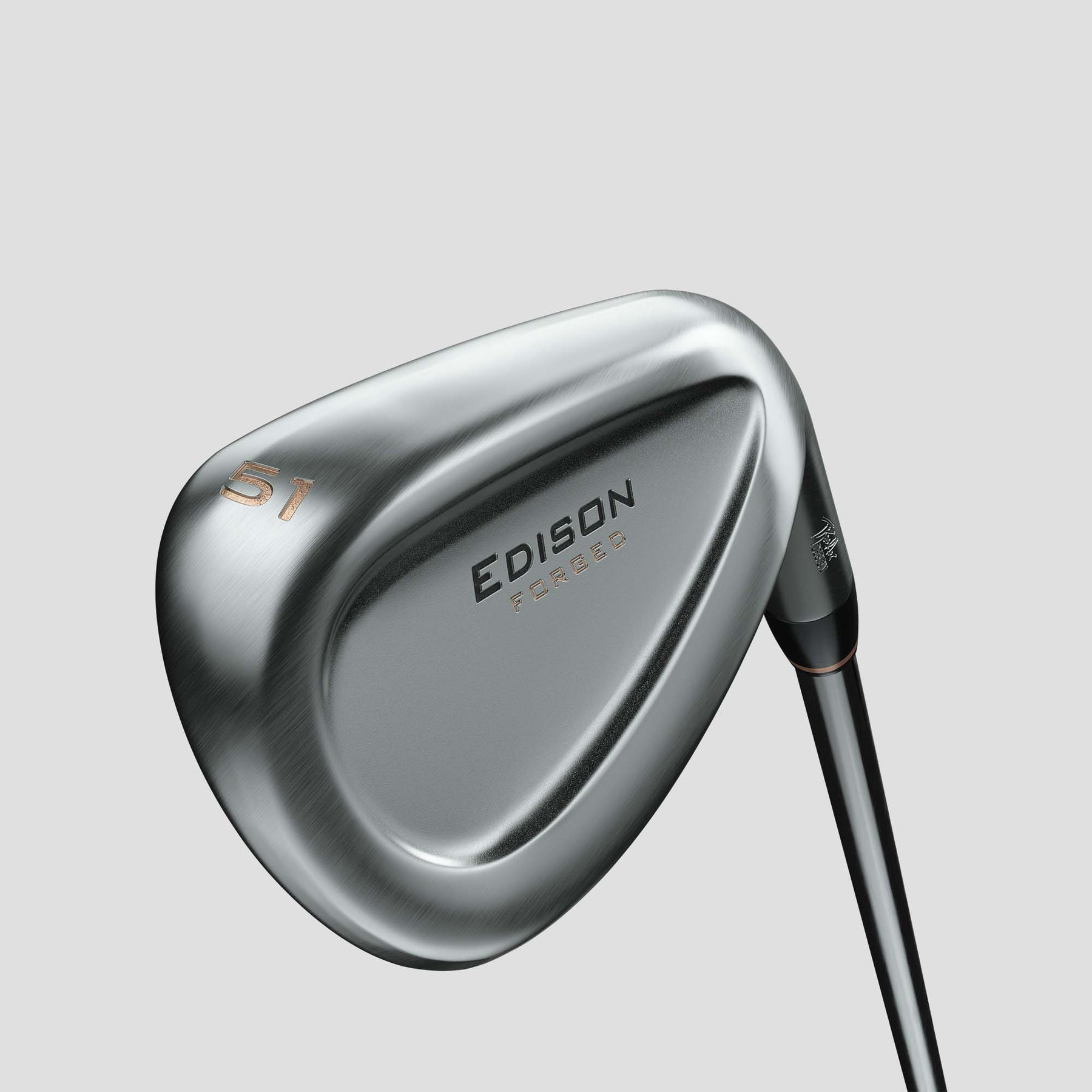 Edison Forged Wedge - Single
We are selling out our remaining inventory of the original Edison Forged Wedges at reduced pricing, and all sales are final.  If you select a loft that is no longer in stock, our customer service team will contact you for a substitution.  Edison Forged wedges are only available for right-handed golfers.
At our close-out pricing, these wedges do not qualify for our Risk Free Trial.  ALL SALES ARE FINAL.
Please Note: We forge Edison Forged Wedges in odd-numbered lofts only. If you select even-numbered lofts, your wedges will be tweaked 1-degree weaker (i.e. 58 will have 57 on the sole, etc).  
Our standard assembly methods place the KBS shaft band facing down on steel shafts, logos facing to each side on KBS graphite shafts.  If you prefer different alignment, please note that in "NOTES" on your order.
Our first-generation Edison Forged wedges are not available with non-standard shafts or grips.
Even-Numbered Lofts
We forge Edison wedges in odd-numbered lofts only. If you prefer even-numbered wedge lofts, your wedge will be tweaked 1-degree weaker (i.e. a "54" will have "53" on the sole).
As you might know, bending a wedge slightly weak slightly increases the bounce angles by one degree as well. Our testing indicates your performance will likely be better when we bend Edison wedges 1-degree weak instead of 1-degree strong. 
That being said, we are happy to bend your wedge 1-degree strong if you prefer an even-numbered loft. Please make this request in the Custom Requests section.
Choosing The Right Lie Angle
Our standard lie angle is 63.5 degrees, and this spec is excellent for the vast majority of golfers. We are happy to bend your wedges up to 2 degrees flat or upright. If you want your wedges to be bent more than 2 degrees flat or upright, give us a call to discuss at 1-800-933-4395. 
As a general rule, we advise golfers err on the side of being too flat rather than too upright, as more upright wedges are prone to having the heel "snag" in deep rough.
Distance Gapping
Not sure which Edison Forged Wedge lofts are best for you? Make sure to take the WedgeFit® Scoring Range Analysis, our proprietary online scoring range analysis tool that includes a personal email consultation with one of our Edison WedgeFit Professionals. 
A Reminder: For most golfers, Edison Forged Wedges fly a few yards farther than the same loft in a different wedge brand because of their lower launch angles and higher average smash factor. 
For example, our 53-degree will likely fly the same distance or even a little further than a 52-degree in another brand but give you extra stopping power around the greens. That's why we make our wedges in odd-number lofts! 
Choosing The Right Grip
We offer the Lamkin® Crossline® in Standard and Midsize. We're happy to add additional wraps. Just enter those requests in the Grip Size Adjustment section.
If you want a different grip, we're happy to source it. Give us a call at 1-800-933-4395 for pricing.
CHOOSING THE RIGHT SHAFT
We work with KBS to provide a comprehensive lineup of premium wedge shafts that will work for golfers of all swing speeds.
STEEL SHAFTS
We offer the KBS Tour in 120S (Stiff Flex) and 110R (Regular Flex). Either blends nicely with any of the steel shafts on the market. If you want something else, we're happy to source it for you. Call 1-800-933-4395 for pricing.  
Keep in mind that most tour players use wedge shafts that are softer than their iron shafts for the improved feel and spin they provide. 
Our Advice
X-Flex Iron Shaft: You'll love the feel and touch of the KBS Tour 120S. 
S-Flex Iron Shaft: You'll enjoy the KBS Tour 120S or 110R. If you're not sure, choose the 110R. You'll get more feel and more spin. 
R-Flex Iron Shaft: You'll love the 110R.
GRAPHITE SHAFTS
For golfers who play graphite shafts in their irons, we offer the KBS PGI (Players Graphite Iron) shaft in a progressive weight and flex matrix. 
Choose the PGI 80 in A Flex, PGI 90 in Regular Flex, or PGI 100 in Stiff Flex. Again, if you want something else, we're happy to source it for you. Call 1-800-933-4395 for pricing.
Our Advice
Choose the flex to match what you play in your irons.
Edison 57* vs Vokey
My son turned me on to this club. Always played Vokeys. This wedge is far superior. Better checking ability with much softer feel than Vokey. Also, improves the playability enhancement with the double grind on the sole. Could not like my Edison 57* more.
Love these wedges
I've been following the reviews on The Hackers Paradise for several months. I had space in my setup for an extra club, and I needed to tighten up some distance gaps I had in my existing Mizuno wedges. I switched to Edison 2.0 with a 47, 51 and 55 degree wedges. I love the sole and the forged heads. I'm still getting everything dialed in, but I'm very happy I made the decision to switch.
Wedge Nirvana
Had some Scor wedges back in the day. Now have the 53 and 57 Edison 2.0. Simply the best wedges out there in my humble opinion and I have tried almost all of them at one time or another. And yes, I too hope you will start making complete iron sets! Thanks for your good work in making these excellent golf tools :)
Great Wedges (57, 51)
I originally saw Edison in an email for TGA. Loved the back story of a small, Texas based company, but performance is what matters. Bought the 57 first. It took a little getting used to for me to take advantage of what it can do. I don't have to manufacture shots by manipulating the club to get great spin vs. my old wedges. Added the 51 recently and like it to hit medium height spinning shots into greens. Two friends have them and a third likely will. Great wedges.
Old dog new tricks
I bought a 51/38 1/2long graphite and as a 55/38 1/4. I added my own jumbo grip max xl I ten purchased 2 gen ones at close out in 47/38 3/4 and a 63/37 I've red got a space for a 59
I've played 10-15 rounds and the worse they've been is twice "yes twice" as good any other wedge I've ever owned
Now it's not just hit greens it's close enough to one putt
What a game changer
My daughter has teased how many different wedges you need dad and my answer are only these
There great looking and perform even better
Excellent wedge, noticeable improvement!
I've played similar wedges designed by Terry, namely some Hogan wedges- and really liked the V-sole. The 2.0's give a much better result if you get under the ball a little more than usual, with the extra help higher up the face. I've hit way more fantastic shots with the 2.0 than I ever did with my Vokeys.
Great wedge
Bought this wedge because I somehow lost the one that is in my set. Clubs are older so replacement was impractical. So Edison delivered a club to my exact specs. Got it in about three weeks. Looked spectacular and my strikes with it are getting upper with each swing. Use it for some chips, bump and run play and full wedge shots. Have never had any club that was so consistently straight. If you are listening Edison, you should consider making full Iron sets.
As Expected
Been a fan of the Koehler sole for 10+ years. Decided to replace my SCOR gap wedge with an Edison 2.0. Bill was a huge help as I am transitioning from steel to graphite. I can play any shot; ball flight is med/low and I am still getting 'one hop and stop'.
great wedges
I started with the 55 and after a month added a 49 and 59. from fairway and rough results have been great with pitching and chipping. Very easy to hit, results on well struck shots is fantastic both spin and trajectory. Love the size of the clubheads.
Awesome and easy to hit
I switched from Vokey wedges to the Edisons after doing a lot of research. I am so glad that I made the switch. The Edisons are very easy to hit from all sorts of lies and turf conditions. It is extremely hard to chunk these wedges. I get better distance with these than the Vokeys. I have a 54 and a 58 degree and am very satisfied with the quality, play-ability, and feel of the strike. I would recommend these to anyone wanting to improve their wedge game and want a wedge that is very easy to hit and accurate. I have been playing golf for over 50 years and these are a great addition to my game.