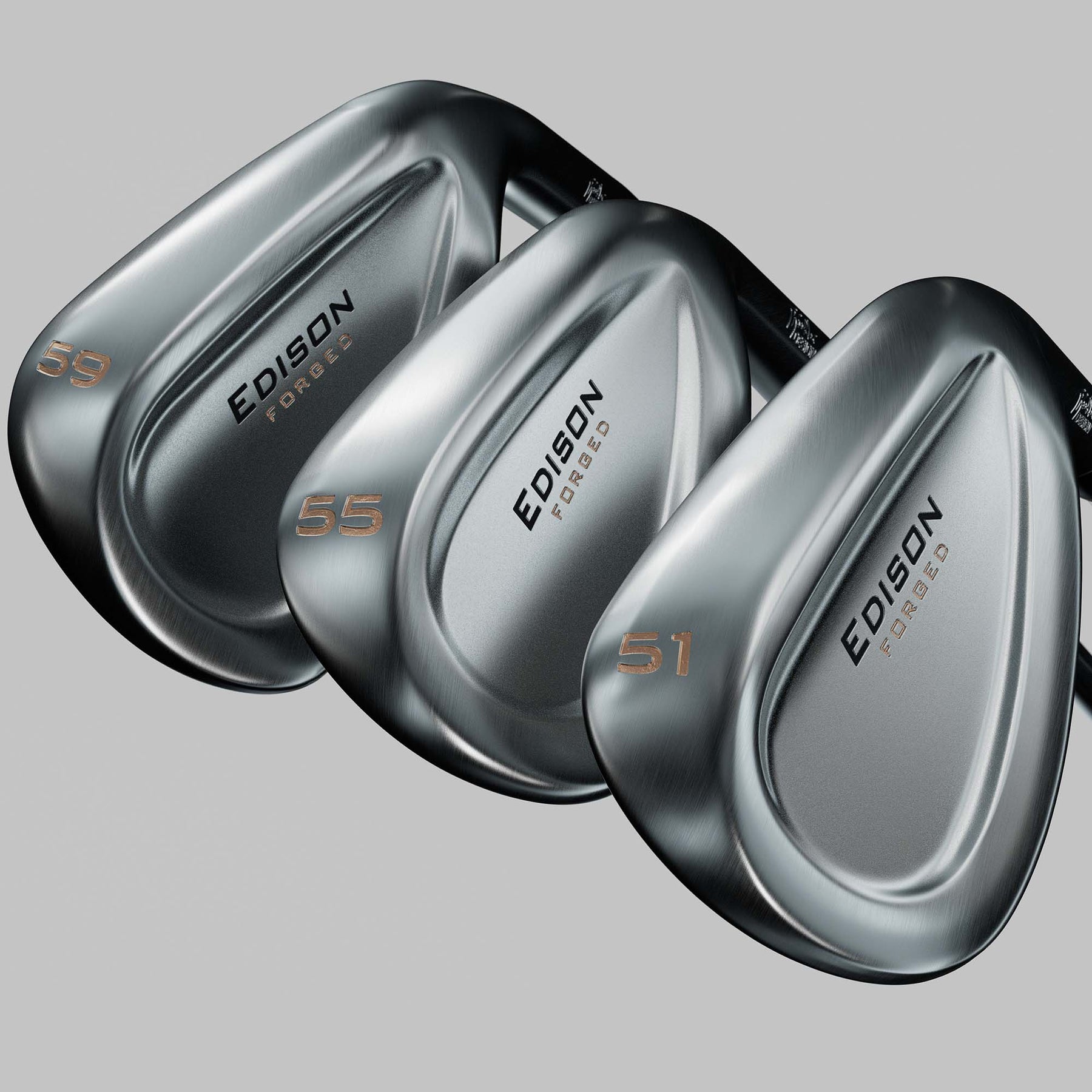 3 Wedge Set - Edison Forged Wedges
We are selling out our remaining inventory of the original Edison Forged Wedges at reduced pricing, and all sales are final.  If you select a loft that is no longer in stock, our customer service team will contact you for a substitution.  Edison Forged wedges are only available for right-handed golfers.
Please Note: We forge Edison Forged Wedges in odd-numbered lofts only. If you select even-numbered lofts, your wedges will be tweaked 1-degree weaker (i.e. 58 will have 57 on the sole, etc).  
Our standard assembly methods place the KBS shaft band facing down on steel shafts, logos facing to each side on KBS graphite shafts.  If you prefer different alignment, please note that in "NOTES" on your order.
Our first generation Edison Forged wedges are not available with non-standard shafts or grips.

Even-Numbered Lofts
We forge Edison wedges in odd-numbered lofts only. If you prefer even-numbered wedge lofts, your wedge will be tweaked 1-degree weaker (i.e. a "54" will have "53" on the sole).
As you might know, bending a wedge slightly weak slightly increases the bounce angles by one degree as well. Our testing indicates your performance will likely be better when we bend Edison wedges 1-degree weak instead of 1-degree strong. 
That being said, we are happy to bend your wedge 1-degree strong if you prefer an even-numbered loft. Please make this request in the Custom Requests section.
Choosing The Right Lie Angle
Our standard lie angle is 63.5 degrees, and this spec is excellent for the vast majority of golfers. We are happy to bend your wedges up to 2 degrees flat or upright. If you want your wedges to be bent more than 2 degrees flat or upright, give us a call to discuss at 1-800-933-4395. 
As a general rule, we advise golfers err on the side of being too flat rather than too upright, as more upright wedges are prone to having the heel "snag" in deep rough.
Distance Gapping
Not sure which Edison Forged Wedge lofts are best for you? Make sure to take the WedgeFit® Scoring Range Analysis, our proprietary online scoring range analysis tool that includes a personal email consultation with one of our Edison WedgeFit Professionals. 
A Reminder: For most golfers, Edison Forged Wedges fly a few yards farther than the same loft in a different wedge brand because of their lower launch angles and higher average smash factor. 
For example, our 53-degree will likely fly the same distance or even a little further than a 52-degree in another brand but give you extra stopping power around the greens. That's why we make our wedges in odd-number lofts! 
Choosing The Right Grip
We offer the Lamkin® Crossline® in Standard and Midsize. We're happy to add additional wraps. Just enter those requests in the Grip Size Adjustment section.
If you want a different grip, we're happy to source it. Give us a call at 1-800-933-4395 for pricing.
CHOOSING THE RIGHT SHAFT
We work with KBS to provide a comprehensive lineup of premium wedge shafts that will work for golfers of all swing speeds.
STEEL SHAFTS
We offer the KBS Tour in 120S (Stiff Flex) and 110R (Regular Flex). Either blends nicely with any of the steel shafts on the market. If you want something else, we're happy to source it for you. Call 1-800-933-4395 for pricing.  
Keep in mind that most tour players use wedge shafts that are softer than their iron shafts for the improved feel and spin they provide. 
Our Advice
X-Flex Iron Shaft: You'll love the feel and touch of the KBS Tour 120S. 
S-Flex Iron Shaft: You'll enjoy the KBS Tour 120S or 110R. If you're not sure, choose the 110R. You'll get more feel and more spin. 
R-Flex Iron Shaft: You'll love the 110R.
GRAPHITE SHAFTS
For golfers who play graphite shafts in their irons, we offer the KBS PGI (Players Graphite Iron) shaft in a progressive weight and flex matrix. 
Choose the PGI 80 in A Flex, PGI 90 in Regular Flex, or PGI 100 in Stiff Flex. Again, if you want something else, we're happy to source it for you. Call 1-800-933-4395 for pricing.
Our Advice
Choose the flex to match what you play in your irons.
The real deal
I've bought a lot of equipment across various sports over the years, and never have I seen such immediate improvement in my performance attributable purely to an equipment change. These wedges feel so stable, I regularly catch it high in the face and I'm seeing the distance consistency promised. Then there's the spin, I used to roll out a couple of yards with my old wedges but these spin- I'm ripping balls back towards pins and holding greens like never before. I've never been so happy to recommend a product.
Great looking wedges, but build was sloppy
I was pretty disappointed in the execution of the offer I received and the quality of workmanship on my wedges.
I ordered early delivery and 'Edison swag' when prompted by an Edison email with the offer. A $500 deposit was sent to reserve a three wedge set to replace my 2 year old Edison's. The clubs were delivered without any Swag. More disappointing was the assembly and install it my wedges, I ordered 2 degrees up right and received 2 wedges @ ~64 degrees and one with a lie angle closer to 60. While swing-weight is not the hugest priority to me, my 49 degree wedge was delivered at ~D6, compared to ~D3 for the 54 and ~D4 for the 59.
I've since reinstalled the shafts and removed the 12g hosel weight from the 49*, and have balanced out the set at about ~D5. I fully expect I will love these wedges as much as my old ones, but I didn't expect to have so much work just bringing these to a reasonable spec.
Best Ever
Terry I wanted to drop you a quick note. My new wedges arrived today and it felt like Christmas. Bill Totten has been connecting with, teaching, coaching , advising and selling me on the idea of adding your newest "inventions" to my bag.
As you may recall I have been with you since Scor wedges and have purchased , or pushed others to purchase (family and friends) over 30 of your first Edison wedges. Bill is a fabulous professional on your team and quite convincing.
I only ordered 2 wedges (budget is tighter than normal with a lot of friends and family issues)
Today UPS called and told me the clubs were on the truck and to get home to pick them up. He hates to leave golf club looking boxes on porches because of all the thefts ( in fact Miura has ceased sending clubs in their VIP awesome packaging because of thefts). I got home and ran back out to run errands to finish my honey-do list!
Before leaving With the driver right there I opened the box to see the clubs. They are beautiful. What an amazing upgrade in an already good looking club. I carefully laid them in the back seat and decided to stop at my club, The Preserve at Jordan Lake (Davis Love signature) for a small bucket of balls. Just couldn't wait till tomorrow down in the Pinehurst area!
I bought a small bucket of 30 balls planning on hitting 15-18 and leaving the rest for the many kids out practicing with parents. I walked to a spot about 15 yards (tight lie) to the edge of the green with a pin 11 paces on. I've hit this shot a million times and was so excited to try out the new club. I positioned the club head behind the ball and can honestly say I've never seen a better looking wedge at address. It's beautiful. It's perfect. It feels like your wedges were designed for me and nobody else. Congratulations on that look. It's a WOW.
I then took my first swing. It landed on the green, took a couple small bounces and rolled into the hole! If I ever wanted to kiss a club it was at that moment. I'd like to say that I hit the next 15-16 shots in the cup but did not make another. That being said it felt like my circle of dispersion was at least halved on long/short measurement and more than that on the left/ right sides of the hole.
Simply put, these are the best wedges I've ever hit in my life. I got back into my truck to finish errands and called Bill to report in. He was so happy to hear the feedback. Before I hung up, with what I am sure were big smiles on both of our faces, he suggested that I add the 3rd wedge to the set. The new wedge has been ordered and will join my Miura MC 302 irons and complete my set.
I had been thinking about ordering in December or after the first of the year but decided the time was now. There is no wait in great!
Terry I thank you for your company, your club designs, Bill and all you do for a 70 year old golf equipment junkie like me!
Respectfully Submitted,
Worst wedge I have EVER tried!
I got a 59 degree wedge to try as a replacement for my 58 degree that I lost. My Course is closed and has been for a while so I did not get a chance to test it much but after I finally did, this wedge is not very good. It has no bounce for tight lies chipping around a green and does not have the bounce to get you through the sand. They also no more forgiveness than a traditional wedge. Stay away and stick to the big manufacturers.
I tried to request a return within the time limit when I was headed out of town for a while and was going to send instruction back to wife to mail. After requesting return by email like it says to do, they reply and say that I needed to call and request. I did not see this reply email in time and now they say I am out of luck. The wedge is still like new because it was not used due to its inability to perform so now I am left with a fire stoker for $179.
Thanks guys and good luck with your scam!
Really Like these Wedges
Purchased these back in December and eventually got them shipped to Singapore in mid-January. Had them build with same shafts/grips as my existing irons and PXG wedges. Find they have a nicer flight trajectory and say what they do. I don't use them around the greens as my short game is poor and being used to links courses from back home tend to use 7 or 9 iron instead.
I got the 49, 54, 59 wedges with graphite shafts and really delighted with them.
Full marks for the technology
Edison Wedges
I decided to order a 59, 55, and 51 after the Wedgefit online. After two months I ordered a 47 to complete my set. I have been a vokey loyalist for at least 15 years. The feel and ball flight of the Edison wedges are so pure. I don't see a scenario where I would go back to the Vokey's. Be prepared for a lot of controllable spin on these weapons. These are quality clubs for players looking for next level performance.
Very Solid High Performing Club
I played other sports at a collegiate level but was never a golfer until much later in life, so I've been working toward being a decent (bogey or better) golfer and finding the nexus between my competitive drive and the desire to enjoy the game. My assessment of the two wedges I purchased is based on this background.
I purchased 2 wedges. A 53-degree and a 59-degree wedge.
The build of the two wedges feels very solid and of high quality. The packaging they were delivered in was excellent. The back spin I consistently get with these wedges over my prior wedges averages close to 1500 rpm's, and my distance control with them has been better than my previous norm.
You might get some jabs from your playing partners about your club's legality if playing odd numbers like mine, but once you stick a few shots close and under the pin location, the jokes drop off dramatically.
Great clubs! Highly recommend!
Lives up to the hype
I was skeptical about this wedge with North TX winter conditions. Damp, dormant bermuda, sticky damp clay. Excellent performance. Yesterday I holed out from 20 yds. Just no worries. Regaining my short game confidence in these lousy conditions. I'm 74, 12 handicap. I need all the short game help I can get. This one fills the bill. Just ordered the 58 to complement my 54. Another benefit, they are beautiful clubs. Going back to using headcovers on my wedges!
Wedge Review
I don't review many things but as the golf nut that I am I felt obligated to review this wedges. I've played vokey forever but these wedges are by far the best I've ever played. I don't find that some of the claims are true for me such as the extra distance or lower ball flight but with the first shot I could tell they were more forgiving and had a better and more solid feel. I don't use these for full shots just pitching, chipping and out of the bunkers. These wedges have taken my bunker play to the next level. In closing I'll just say these are the only wedges I'll ever play, definitely worth giving a try.
New Edison Customer
Still getting used to my new wedge. Just a couple of rounds in and some practice but so far I am very impressed. Full shots from tight lies perform as I had hoped. Chipping performance also good. Very classy looking especially when compared to game improvement wedges. Expect I will add a lob wedge after I have had a chance to play some more rounds.