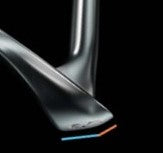 3 Wedge Set - Edison 2.0 Wedges
Edison 2.0 Wedges are only available for right-handed golfers at this time.
We engineered the EDISON 2.0 Wedges in odd-numbered lofts only. If you select even-numbered lofts, your wedges will be tweaked 1-degree weaker (i.e. 58 will have 57 on the sole, etc).
Our standard assembly methods place the KBS shaft band facing down on steel shafts, graphics facing right and left on graphite shafts. If you prefer different alignment, please note that in "NOTES" on your order.
We are also happy to build your Edison 2.0 Wedges with any non-standard shafts or grips you might prefer. Please call 1-800-933-4395 for pricing and to order.
EDISON 2.0 SPECIFICATIONS

Heads: 5X forged 1025 carbon steel
Finish: Glass bead & satin buff; Edison Pearl Chrome plating
Hosel bore: Accepts any .355 taper tip shaft; weight port in bottom of bore
*The patented Koehler Sole combines both a high bounce leading edge with a low bounce trailing portion of the sole for unmatched versatility. It cannot be compared to any conventional specialized sole grind
Even-Numbered Lofts
We engineered Edison 2.0 Wedges in odd-numbered lofts only. If you prefer even-numbered wedge lofts, your wedge will be tweaked 1-degree weaker (i.e. a "54" will have "53" on the sole).
As you might know, bending a wedge slightly weak slightly increases the bounce angles by one degree as well. Our testing indicates your performance will likely be better when we bend Edison wedges 1-degree weak instead of 1-degree strong. 
That being said, we are happy to bend your wedge 1-degree strong if you prefer an even-numbered loft. Please make this request in the Custom Requests section.
Choosing The Right Lie Angle
Our standard lie angle is 63.5 degrees, and this spec is excellent for the vast majority of golfers. We are happy to bend your wedges up to 2 degrees flat or upright. If you want your wedges to be bent more than 2 degrees flat or upright, give us a call to discuss at 1-800-933-4395. 
As a general rule, we advise golfers err on the side of being too flat rather than too upright, as more upright wedges are prone to having the heel "snag" in deep rough.
Distance Gapping
Not sure which Edison 2.0 Wedge lofts are best for you? Make sure to take the WedgeFit® Scoring Range Analysis, our proprietary online scoring range analysis tool that includes a personal email consultation with one of our Edison WedgeFit Professionals. 
A Reminder: For most golfers, Edison 2.0 Wedges fly a few yards farther than the same loft in a different wedge brand because of their lower launch angles and higher average smash factor. 
For example, our 53-degree will likely fly the same distance or even a little further than a 52-degree in another brand but give you extra stopping power around the greens. That's why we make our wedges in odd-number lofts! 
Choosing The Right Grip
We offer the Lamkin® Crossline® 360 Grey in Standard and Midsize. We're happy to add additional wraps. Just enter those requests in the Grip Size Adjustment section.
If you want a different grip, we're happy to source it. Give us a call at 1-800-933-4395 for pricing.
CHOOSING THE RIGHT SHAFT
We work with KBS® to provide a comprehensive lineup of premium wedge shafts that will work for golfers of all swing speeds.
STEEL SHAFTS
We offer the KBS Tour in 110R (Regular Flex), 120S (Stiff Flex) and 130X (X Flex). Any of them blend nicely with other steel shafts on the market. If you want something else, we're happy to source it for you. Call 1-800-933-4395 for pricing.  
Keep in mind that most tour players use wedge shafts that are softer than their iron shafts for the improved feel and spin they provide. 
Our Advice
X-Flex Iron Shaft: You'll love the feel and touch of the KBS Tour 120S. 
S-Flex Iron Shaft: You'll enjoy the KBS Tour 120S or 110R. If you're not sure, choose the 110R. You'll get more feel and more spin. 
R-Flex Iron Shaft: You'll love the 110R.
GRAPHITE SHAFTS
For golfers who play graphite shafts in their irons, we offer the KBS PGI (Players Graphite Iron) shaft in a progressive weight and flex matrix. 
We recommend the KBS PGI 60 or PGI 70 for slower swing speeds, the KBS PGI 80 or PGI 90 for stronger players and the PGI 100 for those golfers who prefer a very firm wedge feel. 
Our Advice
Choose the material, weight and flex to match what you play in your irons.
Edison 2.0 Wedges
I feel totally confident when I chip or hit pitch shots with my wedges. I had Edison 1.0 wedges, which I really liked, but the 2.0s are even better!
Love em..
I got my wedges (51,55,59) about 2 months ago and have played with them 7 or 8 times now, and have loved them since the first round. They look great, and perform great on full shots, they have also given me more confidence pitching and chipping which is my Achilles heel. Only regret… I should have got a pitching wedge replacement too.
Performance as advertised
First learned about Edison Wedges listening to a Podcast featuring founder Terry Koehler prerelease of original wedges . Everything he said resonated with me. Higher center of gravity, bigger sweet spot, lower trajectory with more spin.
I preordered one of the first 500 sets. They literally perform as advertised. Dispersion is much tighter than I typically see with traditional wedges. The Koehler sole just plain works!
I made the move to v2.0 to begin the 2023 season. Are they worth it? Yes
I carry 45*49*53*59*
Original wedges are good looking. Edison 2.0 are beautiful. Better looking in person than in photographs. Both versions are forged and perform well, but 2.0 feels a bit softer IMO. I'm glad I made the move away from traditional wedges to the more forgiving Edison Wedges.
Their customer service has been excellent!
Legal cheating?!
With that high bounce portion of the Koehler sole, you can actually set up with shaft lean of 15 degrees or so and still have some bounce to work with allowing you to totally chunk that shot and still get a decent result. No leading edge digging in, even for that shot! It's practically cheating!
SIMPLY THE BEST! ALMOST LIKE CHEATING!!!!
I purchased the 49 bent to 50 first. Practiced with it a couple days then played a difficult course and shot 78. All my wedge shots were perfect. I have since purchased a 53 bent to 54 & a 45. Have yet to mess up a sand shot!!! Lots of spin!!!!
More Edison greatness
After great success with my 54 and 59, I recently received a 49 degree Edison 2.0. I got it with the same shaft, grip, and length as my set gap wedge for a direct comparison. Early side by side results have been very promising. Like the higher lofted wedges, the turf interaction with the 49 is fantastic. I feel like I'm getting better results with all shot types, pitching, chipping, and full swings. More comparison to follow but so far, so very good!
Best On Market
Ive tried them all best I have found accuracy and feel out of this world Vokeys are gone
Wonderful wedge!!
I've tried for a while now to find a wedge I consistently hit 100 yds, from different companies, lofts, etc. The Edison 2.0 wedge is perfect. Love the weight, feel, and most importantly the consistency. Bravo
Everything and More
I received my three wedges (60, 55, 49) last week. I've been to the range three times and played them this weekend in a tournament. Now, I rarely send reviews on anything I buy, but these wedges so far seem to be everything you say about them and more. I'm a 4 handicap, 75 years old, and play 2-3 times a week. I've played about all the name brands, so for me I think I can pretty well tell the differences. I can definitely feel the solidness of the forged feel. They are longer - I've been hitting my Cleveland 60* about 70 yards. Edison 60* is beyond that, consistently. Unfortunately for me, I subconsciously know each wedge is just naturally going further than I'm used to, so have been decelerating fearing I'm going to hit it way too far. This can be fixed. But what really is amazing is how consistently I've hit solid shots, and I know I don't hit the sweet spot this consistently. I could go on, but will end by saying that range balls even feel more solid.
I took a flyer and you've turned out right.
So far so good
So far so good. Played 2 rounds. Solid and good spin. I bought 3 wedges 49,53,bent to 54 and 59 bent to 58....all good