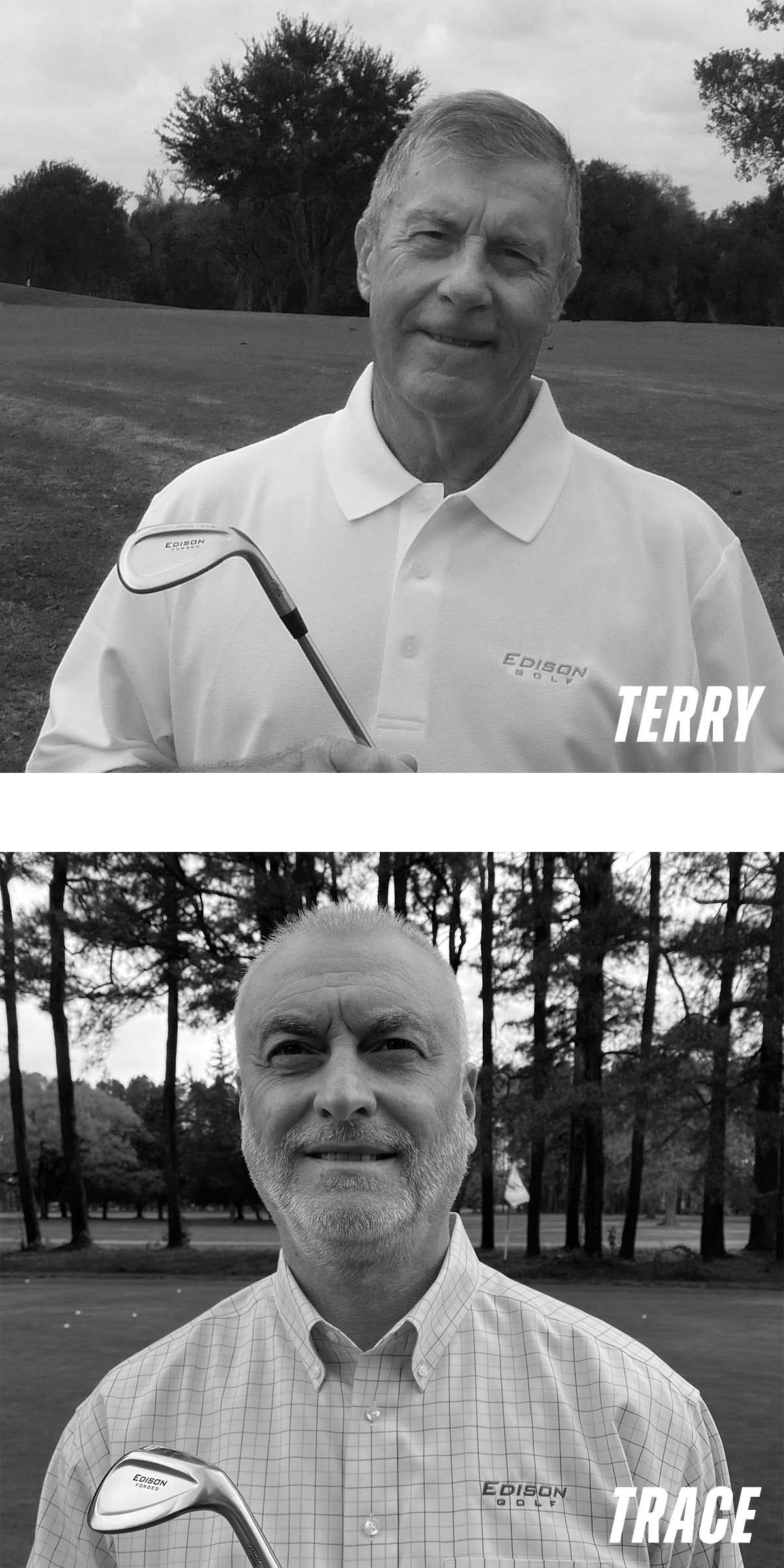 Who We Are
Edison Golf was founded by two golf industry veterans with a combined 75+ years of experience in the industry.
Chairman Terry Koehler, better known as "The Wedge Guy" from his popular blog, has spent more than 40 years designing golf clubs, the past 30 of them focused on wedges.
You might have even seen his work in wedges, which dates to the early 1990s. But did you know he pioneered a number of wedge design attributes that have become commonplace in the category?
His "Koehler Sole" has been proven by thousands of golfers for over thirty years. It has even recently come to light that the best player in modern golf has been grinding his wedges in a similar way. It really is THAT good.
Terry's other contributions to modern wedges are numerous. He began placing more mass in the top of the wedge head in the mid-1990s with his designs for Reid Lockhart®. In the early 2000s, his EIDOLON® wedges were the first to incorporate CNC-milled grooves in production models. He introduced progressive weighting to the wedge category with his SCOR wedges in the early 2010s and forwarded that concept in the Ben Hogan TK15 wedges in 2015 – and now the EDISON 2.0 wedges.
Complementing Koehler's creativity in wedge design is Edison Golf COO Trace MacDougall. In addition to being a former PGA Golf Professional, Trace spent eight years on the PGA and LPGA Tours as a Manufacturer's Tour Representative, where he provided technical and fitting expertise to Tour players. Additionally, Trace brings more than 35 years of engineering and operations expertise to Edison Golf, having worked with some of the world's largest companies: Martin Marietta, GE, Motorola, and more.
The small but potent team at Edison Golf craft and ship every custom-built Edison Forged wedge from the company's headquarters in Rockport, Texas.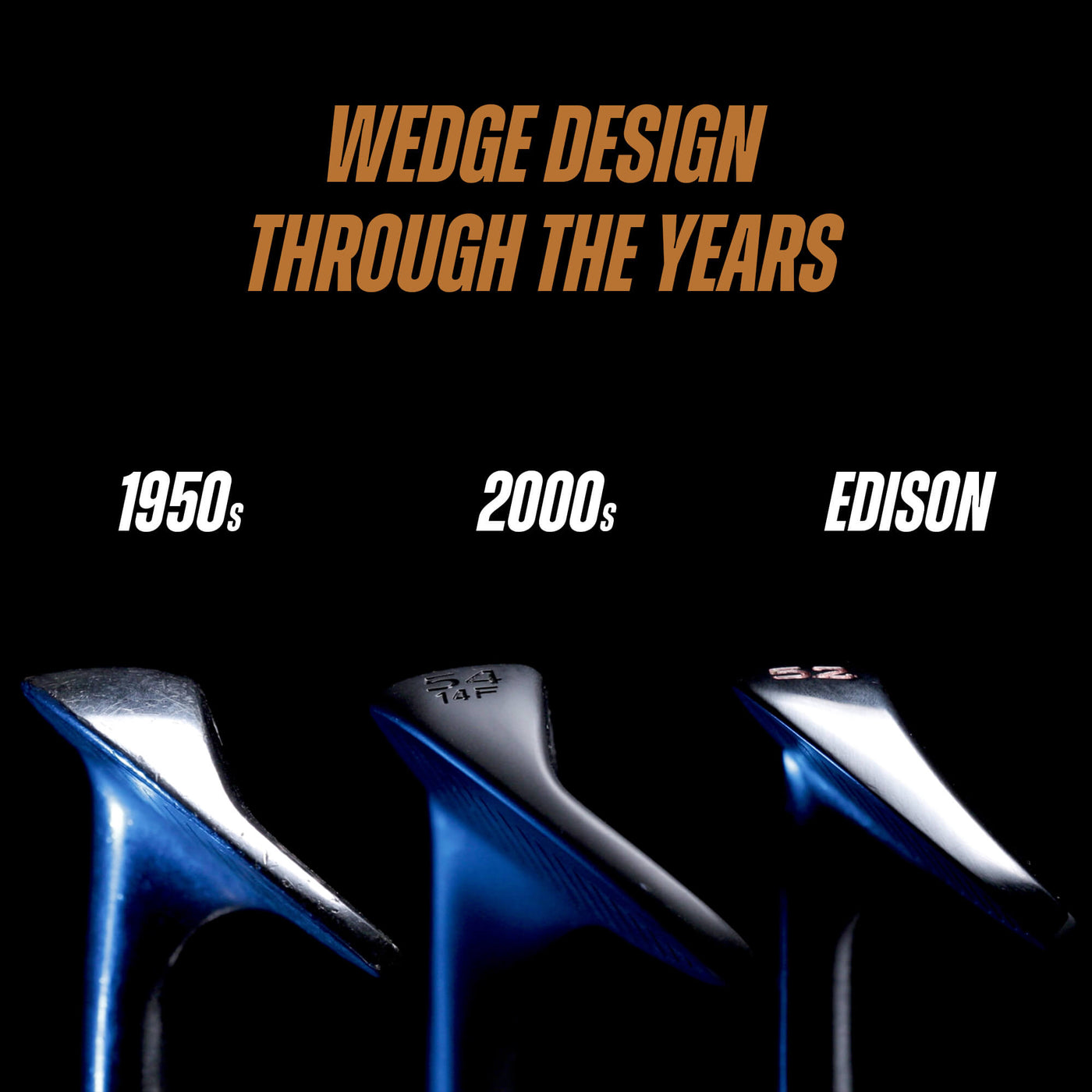 Why Edison?
Almost all wedges are relatively simple, single piece molded pieces of metal. Whether cast or forged, what you see defines what you are going to get in the way of performance. So, because almost all other wedges look pretty much the same – and haven't changed much in decades – they all work pretty much the same, too. That's why your past wedge purchases have likely been underwhelming… not really delivering any real performance improvements.
The indisputable "laws" of golf club performance are what drove us to take a completely fresh approach to the design of wedges at Edison Golf. (See our Technology page for more.)
The EDISON 2.0 wedges don't look like any other wedges, because they were created to make a dramatic improvement in distance consistency, forgiveness, sole versatility, and spin for everyday golfers like you. And that wasn't going to be possible unless we got completely outside the box.
The new EDISON 2.0 wedges raise the bar for wedge performance in every category that counts. Very simply, they will improve the consistency of your scoring range performance.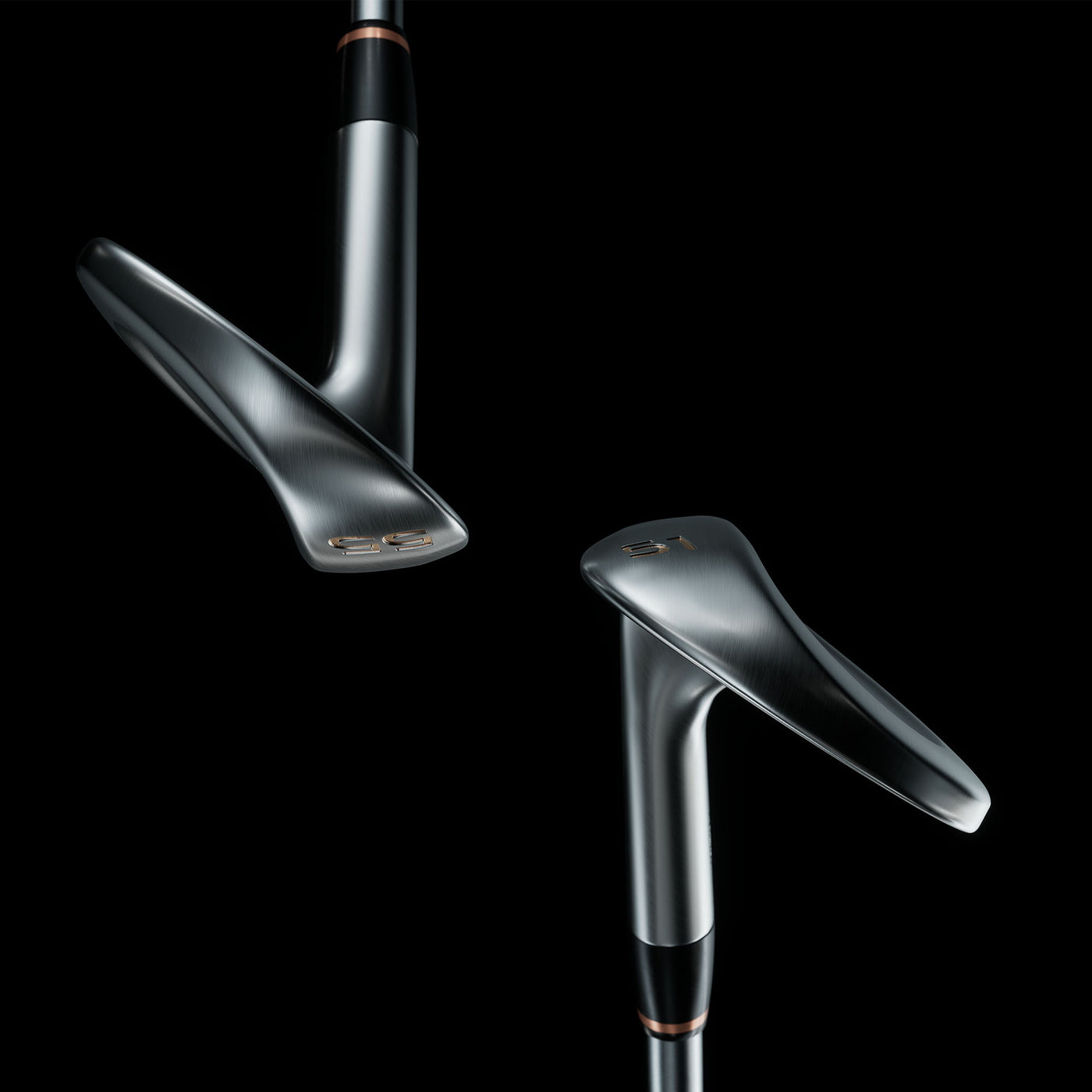 What We Believe About Wedges
More Forgiveness Is Better
EDISON 2.0 wedges are proven to put your not-so-good shots closer to the hole compared to any wedge you've ever played… or any other you can buy. The quality of any golfer's wedge play is measured by your distance consistency from shot to shot, and no wedges on the market come even close.
One Sole Is Better
We put the Koehler Sole on all of our wedges because it works better than any specialized grind in the category. It adapts to steep and shallow attack angles alike, and it can handle the infinite variety of different lies you'll face on the course. With an EDISON 2.0 wedge, you'll never have the wrong bounce or grind again.
More Spin Is Better
You'll create more spin with the EDISON 2.0 wedges compared to the wedges in your bag. They were designed to do that.
A Lower Ball Flight Is Better
Robotic testing indicates the EDISON 2.0 wedges launch the ball 2-4 degrees lower than tour-design wedges of the same loft, giving you more control over your trajectory – especially in the wind.
Custom Is Better
To perform their best, your wedges must be built just for you. That's why we craft the EDISON 2.0 wedges one at a time for the golfer who's going to play them. We offer a wide range of standard shafts and grips and don't charge extra for alterations to standard length and lie angles, or grip work.
We even developed our proprietary WedgeFit® Scoring Range Analysis, the most comprehensive online fitting tool in the industry, to help guide you to the right lofts, shafts and specifications to optimize your scoring range performance.